Chillicothe Attorney Tom Chapman to State Court of Appeals Bench
CT 09/04/18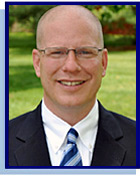 (AP) - Attorney and regional circuit court Judge Thomas "Tom" Chapman of Chillicothe was appointed to the Missouri Court of Appeals, Western District, by Gov. Mike Parson last Thursday. Chapman will succeed Judge James E. Welsh, who retired in March. "Judge Chapman is a distinguished jurist whose rural perspective, I believe, will add additional balance to the court," Parson stated in a news release confirming the appointment. "I have high confidence that he will continue to be a fair arbiter of the law, faithfully interpret the law as written, and reasonably consider decisions made at the trial level in his own evaluation."
A native of Chillicothe and son of local residents Don and Nan Chapman, Tom Chapman earned his Bachelor of Arts degree from Westminster College. There, he majored in political science and graduated as Valedictorian of the Class of 1988. Chapman graduated from the University of Virginia School of Law in May 1991. During law school, he was a member of Phi Delta Phi and was an editorial board member of The Journal of Law & Politics. After graduating from law school, Chapman practiced law in a Chillicothe firm with his father and other partners for 19 years before becoming a circuit judge for the 43rd Judicial Circuit, Division 1, in 2011. He was elected as the presiding judge for the 43rd Judicial Circuit in 2012. Judge Chapman is a member of the Missouri Circuit Judge Association, the Livingston County Bar Association, and the Missouri Bar. He also serves as a member of the Chillicothe Area Arts Council Board, the Chillicothe Rotary Club, and the Chillicothe Elks Lodge 656, among many others.
"I greatly appreciate the work of the appellate judicial commission in submitting such a strong panel of qualified candidates, which made choosing especially difficult," the governor noted.
NOTE: Judge Chapman resigned his Circuit Judge position on Tuesday, September 4, 2018. Both the Democrat and Republican judicial committees have an opportunity to meet and nominate a candidate for the November ballot. The deadline is September 18. At this time (September 6, 2018), no one had officially filed with the Secretary of State.
-------------------------------------------------------------------------
Taking the Oath of Office
Wednesday, January 5, 2011 CT
C-T Photo / Drew Van Dyke January 1, 2011
Newly-elected 43rd Circuit Court Judge Tom Chapman (center) was sworn into office Saturday morning, January 1, 2011, to the loud cheers of a full house of his supporters in the circuit courtroom of the Livingston County Courthouse.
Wife, Lindy (left), held the Bible that Chapman swore his oath on during the ceremony. The Bible used was one that had belonged to Chapman's great-grandfather, Lewis Chapman, who had been an attorney in Livingston County during the 1870s. The oath was administered by Daren L. Adkins, associate circuit court judge of Daviess County.
Chapman proceeded to thank his supporters then invited them over to his house to watch football and celebrate.
Several county officials were sworn into office on Friday, Dec. 31, 2010, including James Valbracht, Brent Elliott, Sherry Parks, Adam Warren, Kelly Christopher, and Eva Danner.